The University of Essex is enhancing its collaborations with the Vellore Institute of Technology and the Narsee Monjee
...
The Indira Gandhi National Open University (IGNOU) and The Open University of Kenya (OUK) have signed a Memorandum
...
IIM Jammu and IGNCA are forming a five-year partnership to foster a platform for ideas, research and artistic
...
Karjat-based Vijaybhoomi University joined hands with the Department of Centre for Product Design Manufacturing (CPDM) at the Indian
...
Rishihood University, Sonipat, India and University of Chester, UK signed a Memorandum of Understanding (MoU) fostering a collaboration
...
Illinois Institute of Technology, USA, aiming to promote research and academic collaboration in Business Administration, Artificial Intelligence, Law,
...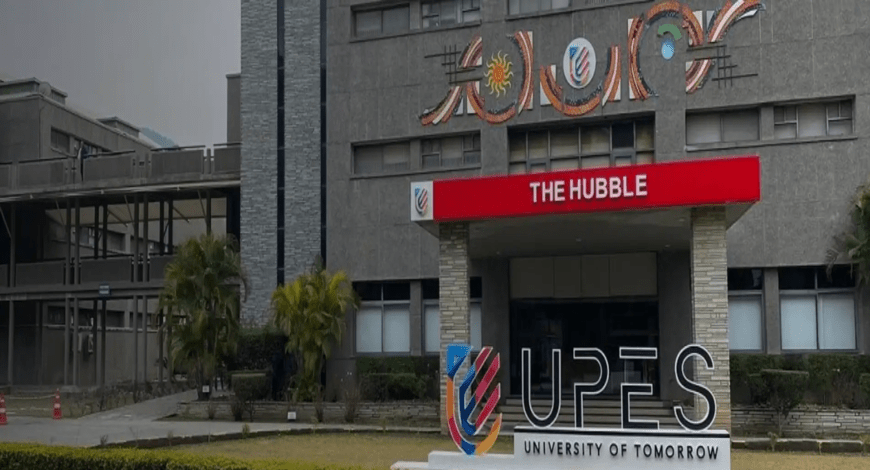 HCLTech and UPES are partnering to develop a knowledge management system, co-develop digital solutions and support curriculum design
...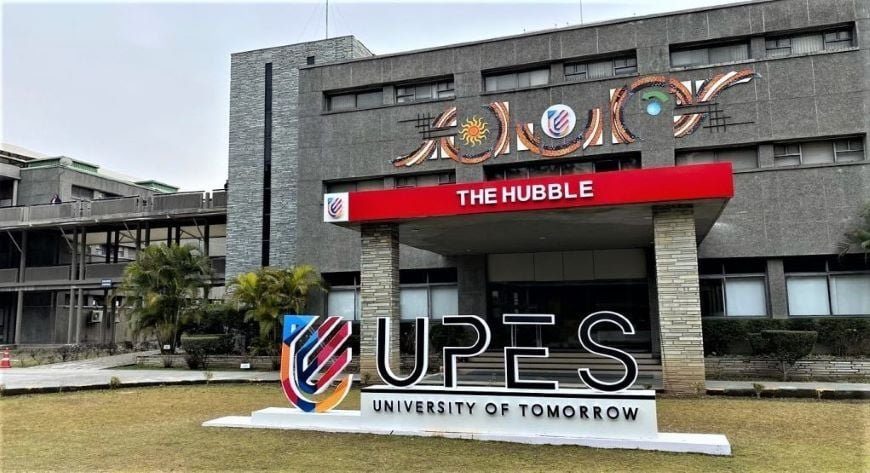 The University of Petroleum and Energy Studies (UPES), Dehradun, inked with CERN (the European Organization for Nuclear Research,
...
The Indian Institute of Technology Mandi has signed a Memorandum of Understandings (MoU) to promote academic excellence and
...
Union Minister for Education and Skill Development & Entrepreneurship, Shri Dharmendra Pradhan met H.E. Sultan Ahmed bin Sulayem,
...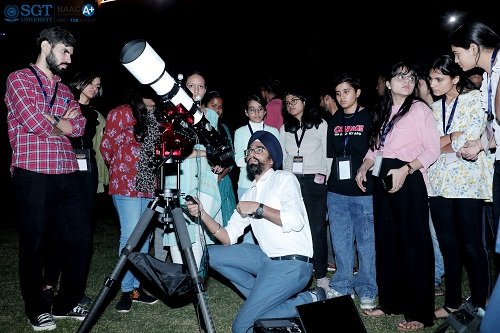 SGT University, in collaboration with the Inter-University Centre for Astronomy and Astrophysics (IUCAA), recently hosted a groundbreaking workshop
...
Religare Enterprises Limited (REL) and AWWA, today announced their long-standing commitment towards the welfare of specially-abled children through modernisation
...
BITS Pilani, K K Birla Goa Campus has entered into a Memorandum of Understanding (MoU) with Goa University
...
Shrewsbury School UK, an esteemed institution of academic excellence and international repute is proud to unveil its inaugural campus in
...
Royals Sports Group-owned franchise, Rajasthan Royals, has officially inked a Memorandum of Understanding (MoU) with The University of
...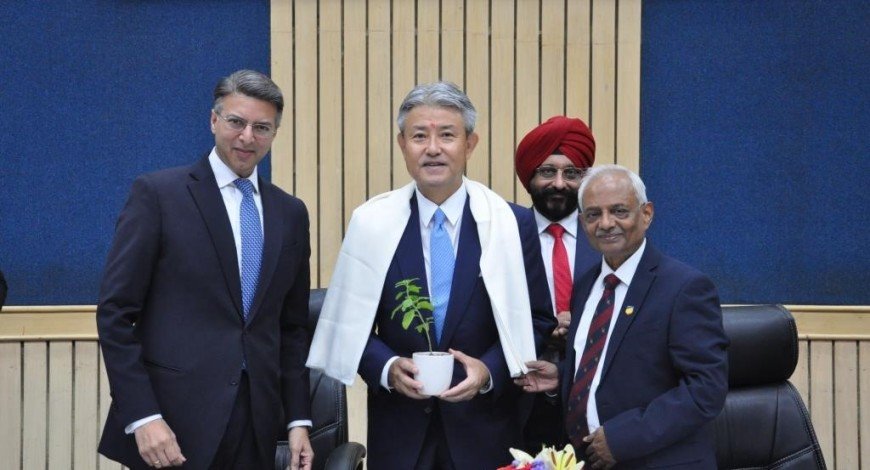 Amity University, Noida signed a Memorandum of Understanding (MoU) with Sekisho Corporation Japan. The MoU was signed to
...
Global Higher Education Programme (GGP) has provided 70 grants worth around £2 million to 155 universities and 13
...
ICreative Arts Education Society (CAES), operating through its constituent academic facilities of Pearl Academy, has partnered with Rajiv
...
Berhampur University, located in Odisha, has entered into a formal agreement with the Association of Commonwealth Universities (ACU)
...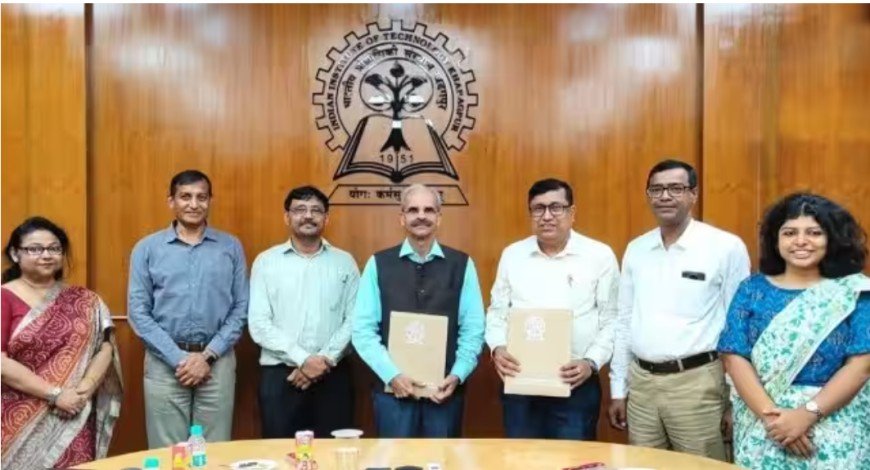 The Indian Institute of Technology (IIT) Kharagpur and the West Bengal National University of Juridical Sciences (NUJS) have
...
Army Institute of Management Kolkata (AIMK) has formalised a Memorandum of Understanding (MoU), marking the commencement of a
...
AICTE, Ministry of Education signed an MoU with EduSkills Foundation in November 2021 to provide 1 million virtual
...
Yallaschools, a technology-driven platform that simplifies school selection and connects Educators, Parents, and Students seamlessly forming a trusted
...
Manipal Institute of Technology (MIT), a constituent unit of Manipal Academy of Higher Education (MAHE) and FIS Global
...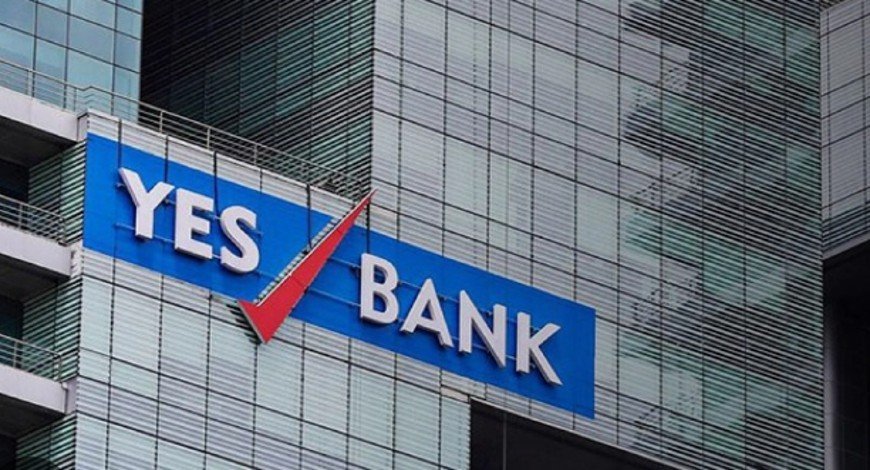 Through this partnership, YES BANK will offer best-in-class banking facilities to Startups that are in a developmental phase
...
VE Commercial Vehicles (VECV) has signed a Memorandum of Understanding (MoU) with IIT Indore (IITI) for a period
...
Manipal Academy of Higher Education (MAHE) and China Medical University, Taiwan, have signed MoU to foster the academic
...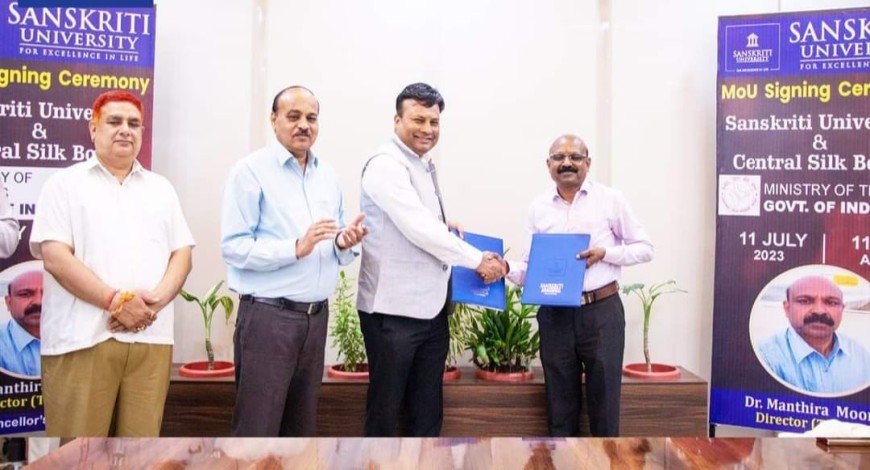 Sanskriti University signed a Memorandum of Understanding (MoU) with the Central Silk Board (CSB). This agreement establishes a
...
The Indian Institute of Technology Guwahati signed a Memorandum of Understanding (MoU) on 19th July 2023 with the
...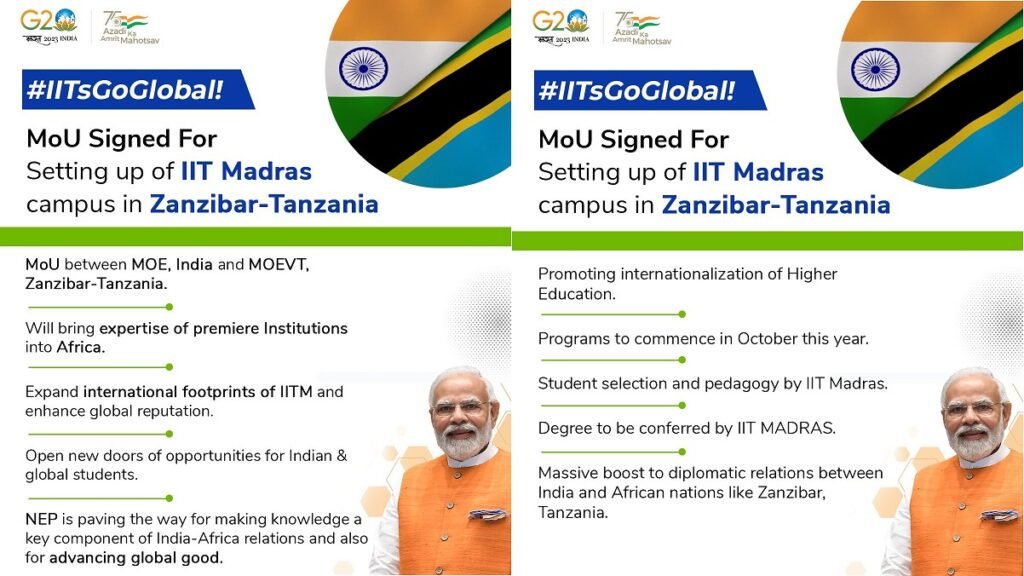 The Memorandum of Understanding (MoU) for setting up of campus of IIT Madras in Zanzibar- Tanzania was signed
...
Noida-based The Design Village (TDV) has joined hands with École Duperré Paris to promote understanding and goodwill, strengthen
...
National Stock of India (NSE) signed a Tri-partite Memorandum of understanding (MoU) with Higher and Technical Education department
...
The Small Industries Development Bank of India (SIDBI) and RV University (RVU) signed a Memorandum of Understanding (MoU)
...
BML Munjal University's School of Law in collaboration with Springdales School, Delhi, conducted the first-ever Inter-School Moot Court
...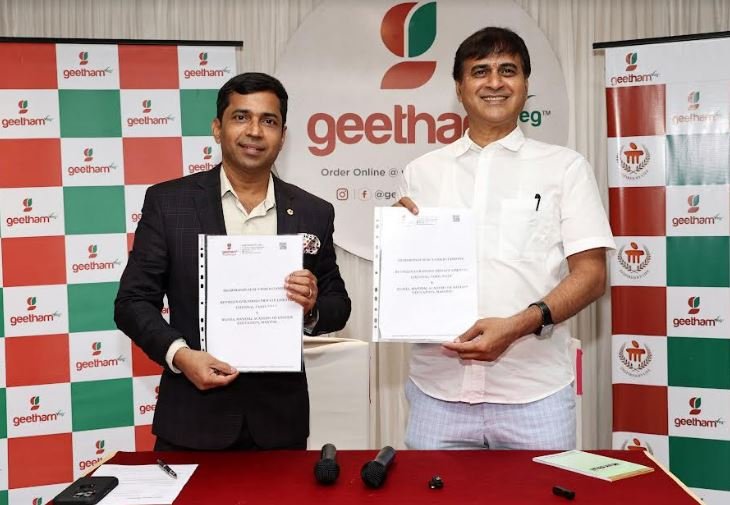 GVR Foods Private Limited, which runs Geetham Veg, a leading vegetarian chain in Chennai, has entered into a
...
The Wadhwani Institute for Artificial Intelligence (Wadhwani AI) has signed an MoU with the National Institute of Urban Affairs (NIUA)
...
TimesPro and AACSB-accredited K J Somaiya Institute of Management have collaborated to launch the Master of Business Administration
...
Jagran Lakecity University crosses another milestone for students from across the borders of Central India by launching the
...
Both the institutions will be working on the Global Research Hub at Amity's New York campus and identify
...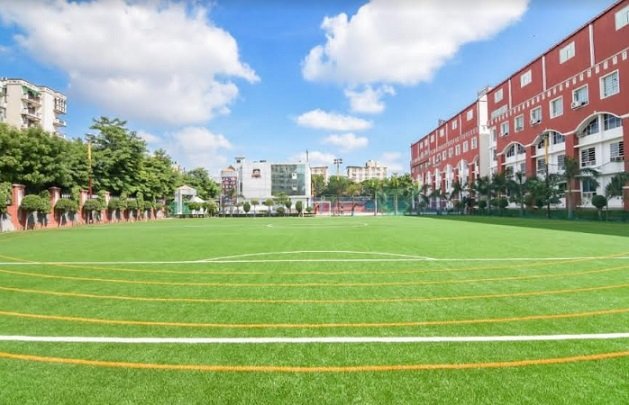 Ramagya School has been a trailblazer when it comes to collaborations with international universities Education is not only
...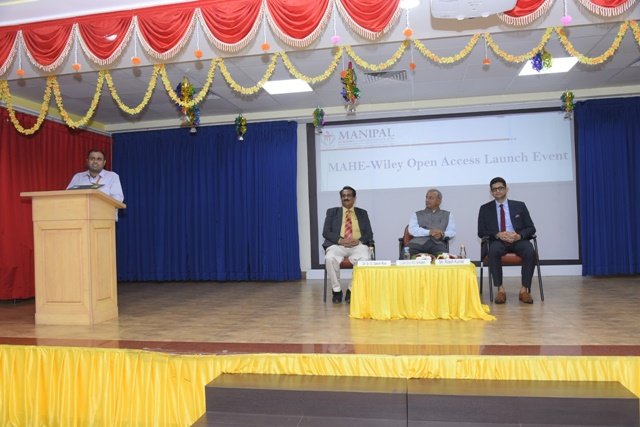 Today, Wiley, one of the world's largest publishers and a global leader in scientific research and career-connected education,
...
Learners will develop cross-functional skills and leadership qualities, develop analytical abilities & use data for strategic decision-making. Indian
...
Pro Vice Chancellor Dr Lovi Raj Gupta, Executive Dean Dr Monica Gulati and the representatives of France institutions
...
Left to Right: K. Kolluru, Saurabh Singal(KnowDis); Anoop Krishnan, Sayan Ranu, Mausam (IIT Delhi) KnowDis and IIT Delhi's
...
The partnership aims to start US-CMA and US-CPA courses Institute of Management Studies (IMS) Noida signed a memorandum
...
Er. Kailash Joshi, a B.Tech graduate of IIT Kanpur and one of India's top math wizards, is the
...
RV University has signed a Memorandum of Agreement (MoA) with Bryant University in Rhode Island, USA. It seeks
...
Steven Inchcoombe, Chief Publishing Officer, Springer Nature Group and Venkatesh Satvasiddhi, MD, Springer Nature India signing the MoU
...
TimesPro and the Indian Institute of Management Visakhapatnam have launched the Executive Certificate Programme in Advanced Strategic Management
...
Collaboration is part of the British Council's 'Going Global' partnerships and the New Education Policy (NEP) of the
...
The watch was developed by Prof Siddhartha Panda and Vishwaraj Srivastava from the National Centre for Flexible Electronics
...
Delegates from Western Sydney University Australia at Chitkara University Continuously and consecutively promoting strategic collaboration, Chitkara University (CU) hosted 20
...
The program will provide financial aid and education to 100 Students with Disabilities It will cater to 30
...
An MoU was signed by Dr Devesh Nigam, Registrar, University of Hyderabad and Arun Kabra, CFO & President
...
As part of the engagement with Infosys, JNTU-K will offer e-content on their website including self-learning material, assignments
...
Advancing its commitment to innovations and future-ready workforce, Emagia, USA today announced the launch of Fintech Innovation Labs
...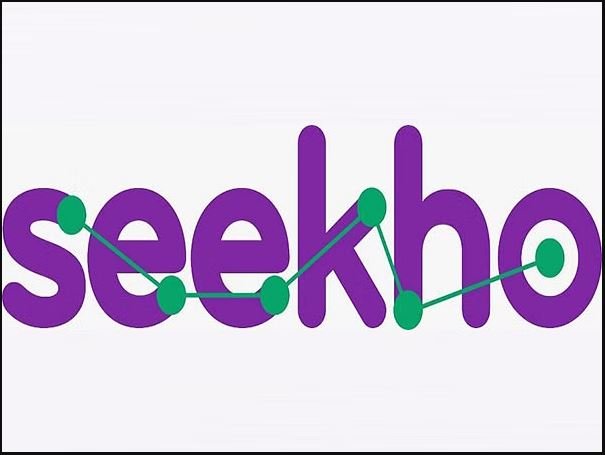 Shine.com, India's Leading Online Job and Recruitment Portal, has partnered with Seekho.ai, an AI-powered upskilling and placement platform,
...
Mr Suneel Galgotia and Mr Dhruv Galgotia, Directors of Galgotias Infra sign a Memorandum of Understanding with Mr
...
Dr. Debashish Sanyal (Director – GLIM, Gurgaon) lighting the lamp surrounded by international delegates at the Winter Business
...
To promote Internationalisation of Indian Education, National Education Policy (NEP), 2020 stipulates various measures, which inter alia include
...
NEXT month, Wales men's field hockey team will compete in the 2023 FIH Hockey World Cup for the
...
The course is specially designed for working professionals and will help them learn the nuances of technology management
...
The National Skill Training Institutes, under the Ministry of Skill Development and Entrepreneurship (MSDE), have initiated the ISRO
...
Chitkara University announced its collaboration with NEC Corporation India, a wholly owned subsidiary of NEC Corporation, for a comprehensive
...
In a unique initiative, Federation University, Australia has collaborated with Chitkara University to deliver a course on Management
...